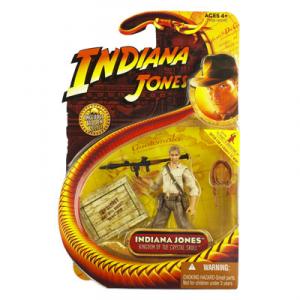 Indiana Jones with missile launcher and whip

Kidnapped by Russian agents, Indy is taken to Hanger 51, the U.S. government's top-secret military installation, where he is forced to help search for a mysterious artifact that can unleash incredible psychic powers. But using his whip and his wits, Indy fights his way to freedom, determined to keep the mysterious artifact out of Soviet hands.
Team up with this hapless hero on an adventure-filled quest for the Crystal Skull! This detailed Indiana Jones figure is based on the legendary character as he appears in the new Indiana Jones film, Kingdom of the Crystal Skull, and comes with a weapon and his signature whip to help defend himself and his crew in their search for the treasure! Complete with his satchel and holster, this fun figure also comes with a top secret hidden relic for you to discover!
Figure comes with weapon, whip and hidden relic accessories.