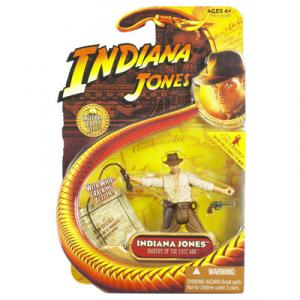 Indiana Jones with whip cracking action

In a Cairo marketplace, a band of local thugs attacks Indy and Marion. Relying on his fists, whip and quick reflexes, Indy defeats the whole pack. During the melee, he loses track of Marion and instead discovers the black-robed Cairo swordsman. Despite his opponent's slick skills, Indy defeats him with just one shot from his pistol.
Add to the adventure – and to your collection! – with this detailed figure! Team up with Indy and even crack that whip! With real whip-cracking action, this hapless hero is ready to save the day! And just in case more trouble finds him, he'll be prepared with his revolver and holster! Donning his signature fedora hat, this Indiana Jones figure also comes with a top-secret hidden relic that you can uncover! So team up with this awesome adventurer and recreate exciting and scenes from Indy's most memorable adventures, like the classic Indiana Jones film, Raiders of the Lost Ark!
Figure comes with a weapon, hidden relic and whip accessories.