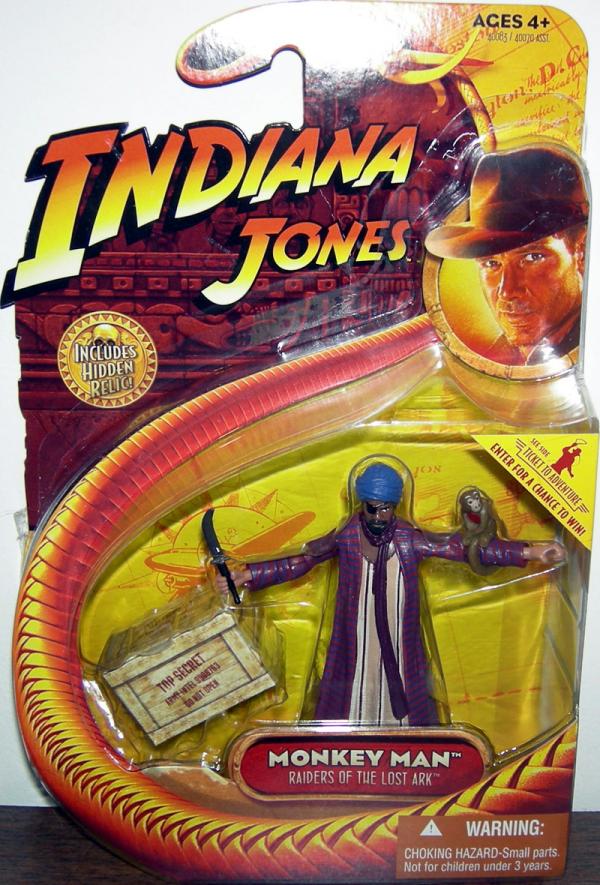 Monkey Man

This one-eyed mercenary from Cairo, known only as the Monkey Man, sold his services to the Germans by spying on Indiana Jones and Marion. With the help of his crafty pet, the Monkey Man aids the Germans in their initial capture of Marion. He later attempts to poison Indy with a batch of deadly dates, succeeding only in murdering his own pet monkey.
Add to the adventure – and to your collection! – with this detailed figure! Monkey Man figure comes dressed in a colorful robe and caftan with a mysterious-looking eye patch. With his "pet" monkey perched on his arm, this posable figure clutches a weapon in his hand and also comes with a top-secret hidden relic for you to discover! Will Indy escape the evil attempts on his life? Will the Monkey Man be victorious? Recreate exciting scenes from the classic Indiana Jones film, Raiders of the Lost Ark, with this sinister-looking figure!
Figure comes with a weapon, monkey and hidden relic accessories.