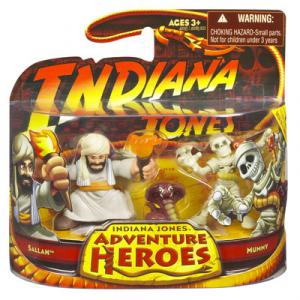 Sallah vs. Mummy (Adventure Heroes)

Discover ancient history and join the quest for fortune and glory! This collectible series features an exciting mix of characters from some of the most action-packed movie scenes. So grab your whip and hang onto your fedora hat. Your next adventure is about to begin with the Indiana Jones Adventure Heroes!
A new adventure begins here! Sallah figure clutches his torch, while the Mummy figure looks ready to pounce! Team up with these two fun figures – and a menacing-looking snake figure! – and recreate exciting scenes from the film, Raiders of the Lost Ark – or create your own adventures!
Includes Sallah and Mummy figures and mini snake figure.