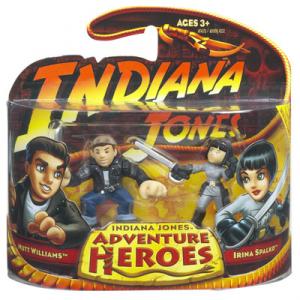 Mutt Williams vs. Irina Spalko (Adventure Heroes)

A new adventure begins here…discover ancient history and join the quest for fortune and glory! This collectible series features an exciting mix of characters from some of the most action-packed movie scenes. So grab your whip and hang onto your fedora hat – your next adventure is about to begin with the Indiana Jones Adventure Heroes!
Donning his biker-looking leather jacket and sporting his trusty "blade" weapon, this chunky Mutt Williams figure is ready to take on the sword-wielding Irina Spalko figure in an exciting battle to the finish! Which of these two mini adventure-seekers will emerge victorious? That's up to you!