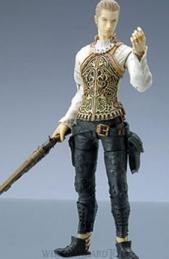 Final Fantasy XII Balthier Bunanza

A SQUARE ENIX Japanese import! All of the drama, action, and incredible characters that you associate with FINAL FANTASY are present -and then some - in this newly released installment. One of the best reviewed games in history, FFXII earned a flawless 40/40 score in Japan's number one video game magazine, Famitsu! Join VAAN and his friends as they defend Dalmasca against the mighty Archadian Empire. Each figure is highly articulated (over 20 points!) , with all the quality and accessories that you expect from the PLAY ARTS line! These collectible figures stand approximately 8" tall - with the Judge even larger and more deluxe than the others! VAAN The hero of the game, and a 17 year old orphaned former street urchin.
BALTHIER BUNANZA While this 22 year old sky pirate would have preferred to remain outside of the war between the kindoms of Ivalice, he is drawn into helping the heroes on their mission.