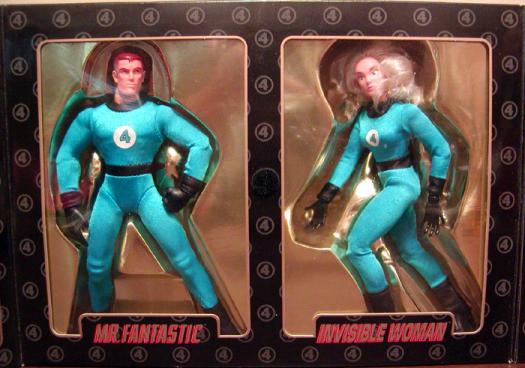 Mr. Fantastic & Invisible Woman 2-Pack (Famous Covers)

Leading the Marvel Universe's first family of super heroes are the husband and wife team of Mr. Fantastic and the Invisible Woman! Gaining their powers through exposure to cosmic energies, the brilliant Reed Richards learned he could stretch his body in just about any shape he desires as Mr. Fantastic, while Sue Richards found invisible force fields as the Invisible Woman.
Presented here as they appeared in the now-classic Fantastic Four #3, Mr. Fantastic and the Invisible Woman sport their very first costumes! Showcasing not only their first appearances in costume, this issue also features the premiere of many of the Fantastic Four's vehicles and machinery. Soundly defeating the villainous Miracle Man by issue's end, the FF are victorious, but left to face the possibility that the Human Torch may leave the team!
These two 8" ultra poseable figures with authentic fabric costumes were a Target exclusive and limited to a production run of 12,000 pieces.