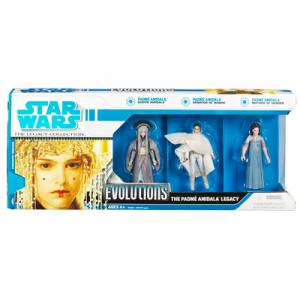 The Padme Amidala Legacy (The Legacy Collection)

Padmé devoted her life to the people of Naboo and became a key figure in the dramatic events that changed the galaxy. Her courage and compassion deeply affected those around her, and was the pivotal legacy she gave to her children, Luke and Leia. While Queen of Naboo, Padmé stood up against the Trade Federation's siege of her planet. As a Senator, Padmé fought to keep the Republic from falling into war. Her last act was to give birth to the twins who would fulfill her legacy by restoring peace to the galaxy.
Set of three collectible action figures based on characters from the Star Wars films includes Queen Amidala, Senator of Naboo and Mother of Legends figures as depicted in the films The Phantom Menace™, Attack of the Clones™ and Revenge of the Sith™.
WARNING: CHOKING HAZARD. Small Parts. Not for children under 3 years. 3.75" scale.
653569300472