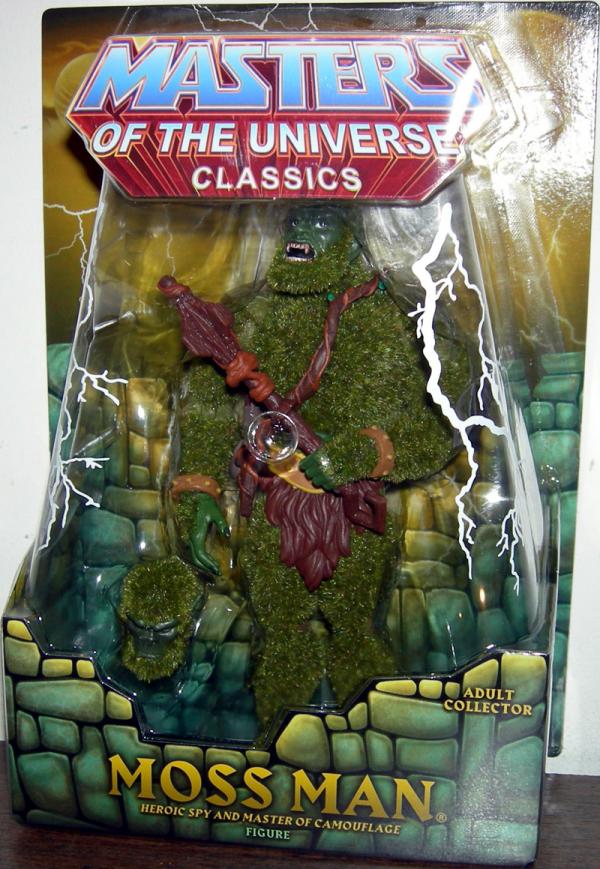 Moss Man (Classics, with unflocked ears)

Mother Nature has nothing on Moss Man, powerful lord over all that is green! This fully-articulated figure features amazing detail and comes complete with nature mace, removable vine sling with stone knife, and, of course, flocking and an evergreen scent guaranteed to take you back! (Collector Note: it is not the identical scent as the vintage toy, but we came as close as possible within today's manufacturing standards.) Moss Man also comes with an alternative 2002-inspired head designed by the Four Horsemen.
Moss Man Bio
Real Name: Kreann'ot n'Horosh™
Thought of for many centuries to be an urban legend, the creature called "Moss Man" was, in fact, an ancient Eternian nature god and ally to King Grayskull. During the rise of Skeletor and the subsequent battles with the Snake Men and Horde invaders, Moss Man often joined forces with the Masters of the Universe, helping to protect freedom for all forms of life. He was instrumental in helping them win the Second Ultimate Battleground, using his powers over plant life and his "fur" of forest green to fool and frustrate his wicked foes. 6" scale.
027084836035