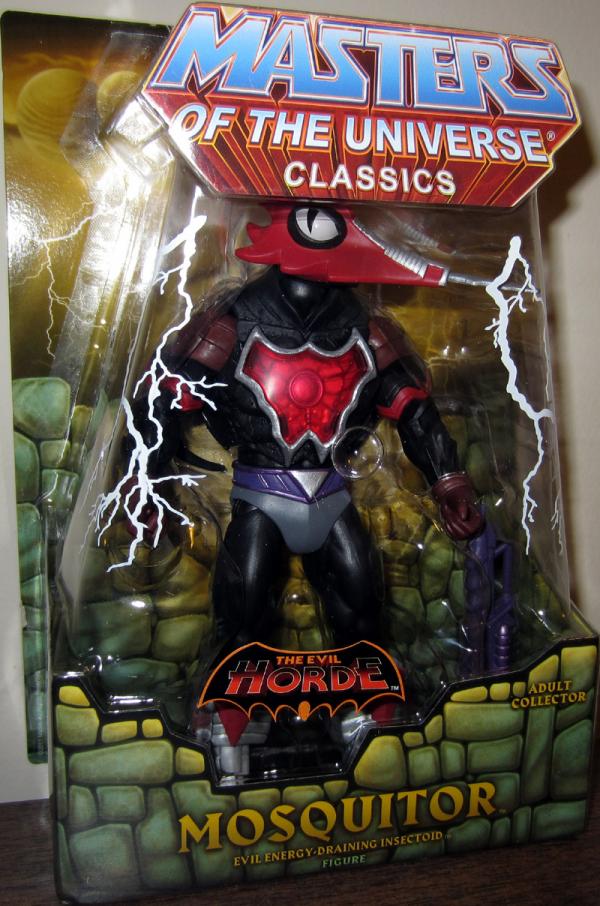 Mosquitor (Classics)

There's something bugging the residents of Eternia...unfortunately, it's an insane insect! This voracious vampire feasts on energy, draining every drop of life from his unfortunate victims. Mosquitor pays homage to the vintage figure with a unique non-removable three-layer chest plate that recreates the look of a red blood-filled chest. He arrives with his vintage blaster and an unquenchable thirst.
Mosquitor Bio
Real Name: Bliddeon Black
A Kribleen insectoid vampire from the Gluubux Galaxy, Mosquitor joined The Evil Horde on his own accord, preferring the Empire to life in a mud hole on his home world. Looking like a normal insectoid, Mosquitor moves in on his prey, then stings them hard and sucks them dry. He is extremely vicious though not particularly brainy. You can't get blood from a rock, but Mosquitor has tried in his day. Mosquitor drains his enemies of their energy while his bionic stinger and chest oozes red with power. Even Hordak keeps his distance from The Evil Horde vampire!
6.5" tall.
746775206901