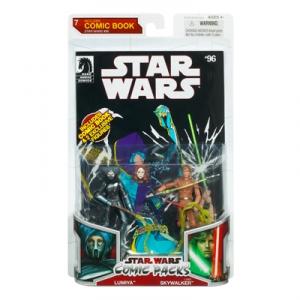 Lumiya & Luke Skywalker

Luke Skywalker is defeated in a battle with Lumiya, the Dark Lady of the Sith, who wields her lightwhip with devastating precision. But this confrontation is far from over. Lumiya wants to punish the Jedi who caused her to become more cyborg than human, while Luke tries to persuade his opponent to turn away from the dark side.
Get ready for twice the Star Wars story excitement with this comic-and-figures pack! First, read all about the thrilling inter-galactic struggles in your copy of Star Wars #96—and then act out the storyline or create your own with your poseable Lumiya and Luke Skywalker action figures! 3.75" scale.
653569370277