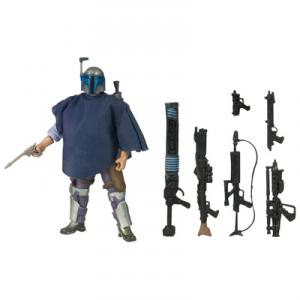 Jango Fett (The Legacy Collection)

When Jango Fett and Obi-Wan Kenobi meet, the Jediís questions and the bounty hunterís replies are civil and bland. But beneath the surface of this polite conversation runs an undercurrent of suspicion and menace as they size each other up, both anticipating that they will meet again under less agreeable circumstances.
Team up with this bounty hunter for an out-of-this world adventure Ė right from the comfort of your living room! Based on the character from the Star Wars film saga, this articulated action figure has detailed styling and comes with a removable helmet, jet-pack and weapon accessories! Use this detailed Jango Fett figure to recreate some of your favorite Star Wars movie moments, or create new adventures of your own!
3.75" scale figure comes with seven weapon accessories.
653569359845