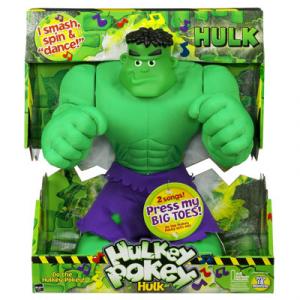 Hulkey Pokey Hulk

Turn playtime "green" with one of the strongest super heroes there is! Break out this hip hero for some singing and dancing fun that's sure to have your child up and ready to move! Press the squeezable figure's big toes and watch the Hulk smash, spin and "dance" to two complete songs, "Hulkey Pokey" and "I'm a Friendly Hulk Hero". Dressed in his infamous cut-off trunks, this Hulk has stitched six-pack abs and super-sized muscles that are completely huggable! Adjust the volume control for an all-out songfest or quieter sing-along play. Don't forget the song lyrics on the package! They give everyone a chance to learn the words as they sing and dance along with this groovy green dancing machine!
Figure comes with sing-along song lyrics on box.
Includes 4 "AA" batteries.