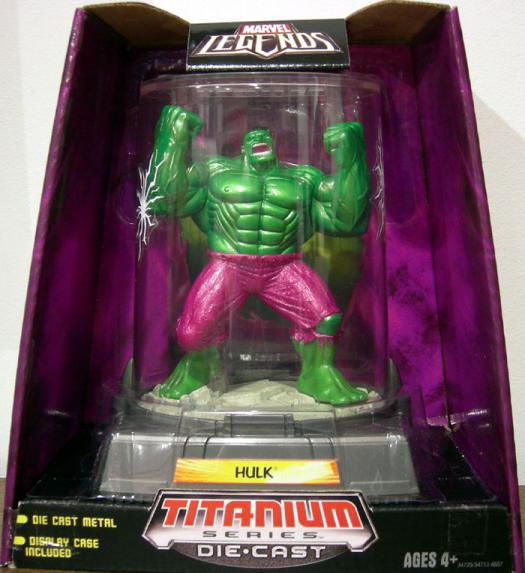 Hulk (Titanium Series Die-Cast)

Bathed in gamma radiation from the detonation of a specialized weapon of his own design, brilliant nuclear physicist Dr. Bruce Banner was mutated into the incredible green menace known as the Hulk. Unable to control his change into the destructive giant, Banner was forced to flee his former life, pursued constantly by military forces under the command of General Thadeus "Thunderbolt" Ross. Banner was able to hide from time to time, but his presence was inevitably betrayed when his subconscious rage got the better of him, and he underwent the horrible metamorphosis into his monstrous other self.
Tormented by an ever more fragmented personality, Banner and the Hulk have searched for years for the means to become one. As Banner, he is a brilliant scientist whose genius is wasted by being forced into constant transience by his fits of destructive rage. As the Hulk, he is an elemental force of destruction plagued by a childlike intellect. Both wish only to do good in the world, but both are haunted always by a deep and dark rage that bubbles just below the surface of their conscious minds.
Add to your friendly neighborhood collection of super heroes with this highly detailed, die-cast metal Hulk figure! This awesome figure comes with a display case. Stands 4.5" tall (6" tall with base).
653569199151