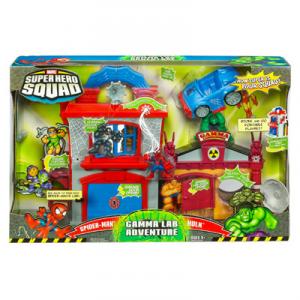 Gamma Lab Adventure (Super Hero Squad)

Take this store-and-go portable playset along for all of your Super Hero Squad adventures. "Blast" open the Gamma Lab door and catch super villains on the spinning ledge trap! Spider-Man can speed to the scene of a crime on his spider-swinging webline or in his crime-busting spider car! With lots of other movable features, you can create a whole new action scene every time you play. Pack everything up inside and you're ready for a rescue anytime, anywhere.
Playset comes with vehicle and 3" scale Spider-Man and Hulk figures. All other figures shown are sold separately.