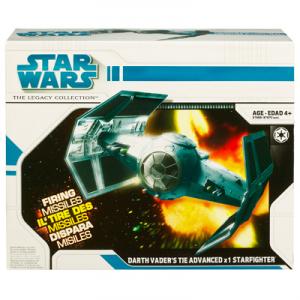 Darth Vader's TIE Advanced x1 Starfighter (The Legacy Collection)

Developed specifically to Darth Vader's specifications, this highly advanced starfighter features a reinforced spaceframe designed to stand up under the most strenuous battle conditions, as well as redesigned wings and a longer engine – all done to improve the craft's performance and make it a more formidable and unstoppable combat vehicle.
Pilot this awesome Starfighter vehicle to galaxy-sized thrills! Open the canopy and extend the cannons! Fire the launching missiles at the enemy! Put your Clone Wars action figure (sold separately) inside the vehicle! Cool detailing helps to take your imagination to a galaxy far, far away!
Vehicle comes with missiles, labels and instructions.
653569339878