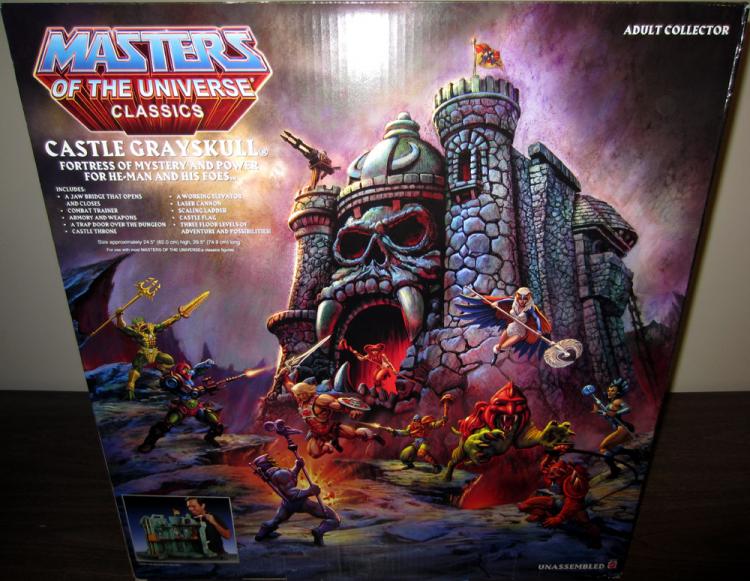 Castle Grayskull (Classics)

Standing solitary in the desolate lands of Eternia, the legendary home of He-Man and the Masters of the Universe offers safe haven for defenders of all that is good. Whether you're a dedicated fan of the original series or new to the Classics line, no collection will truly be complete without Castle Grayskull!
Product Features
All-new sculpt is based on the original 1981 prototype! For 2013, you'll find an extra battle ledge, elongated jaw/face, a removable minaret on top of the dome and much more. To see a complete video overview, please click here.
Dimensions are approximately 23"" to top of pier, 18"" wide, and 11.5"" deep when closed. The Jawbridge is approximately 8"" tall.
Real opening Jawbridge just like you remember...only way cooler because now He-Man fits inside!
Just like the vintage toy, this is a two-sided foldout design but there are three levels to show off your MOTUC figures (in scale with most of our 6.5"" figures).
Two secret doors for stealthy getaways – the first, a traditional door that opens out the back, and the second door is a secret brick wall that exits to the outside ledge.
Trap door leading to the dungeon (of course) has an opening door, plus ""locks"" and chains to hold one misbehaving figure.
Throne fits most 6.5" MOTUC figures – who will rule your Castle Grayskull?
Bat wing jet pack and training device were both cut from the vintage prototype and are finally produced here!
Working elevator like the vintage toy, but the red skull on top that was cut from the original prototype has been added. And, while the vintage toy went only to the second level, the elevator goes to all three levels.
Can you find the hidden Secret Orb room? (Please note: although the orb isn't included with Castle Grayskull, one does come with our King Grayskull figure.
Removable ladder leads to the roof where a blaster and the proud flag of Castle Grayskull await.
Included carrying handle is optional so you can choose easy transport or a clean display.
Have Wind Raider? Castle Grayskull includes an attachment so you can be ready for air-battle at a moment's notice (and create a complete diorama).
The vintage castle came with a weapons rak that was produced for our Classics line several years ago. To help keep your new Castle Grayskull nice and organized just like the original, we brought back our Weapons Rak, now available!
Comes in a box showcasing new art by Rudy Obrero, the genius artist who created the original box art (as well as the MOTUC Wind Raider and Granymyr box art), and ships in heavy-duty packaging custom-created for your Castle Grayskull.
746775235956