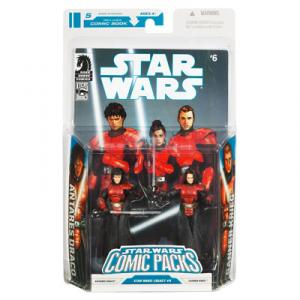 Antares Draco and Ganner Krieg (Comic Packs)

Imperial Knights Antares Draco and Ganner Krieg go on an unauthorized mission to save Marasiah Fel, the daughter of Emperor Roan Fel. The Sith hope to capture the deposed emperor by threatening Sia's life, but Roan refuses to risk a rescue attempt. Draco cannot stand by and let the woman he loves fall into the hands of the Sith, even though he knows he and Krieg will be walking into a trap.
Add these two awesome figures to your collection! 3.75" tall figures are poseable and come with a Star Wars Legacy #6 comic book!
WARNING: CHOKING HAZARD - Small Parts. Not for children under 3 years of age.
653569318866