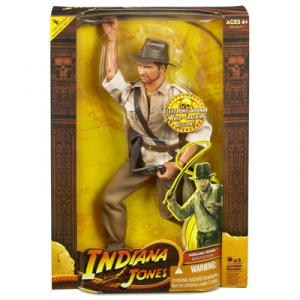 12" Indiana Jones with electronic sounds and whip cracking action

In a Cairo marketplace, a band of local thugs attacks Indy and Marion. Relying on his fists, whip, and quick reflexes, Indy defeats the whole pack. During the melee, he loses track of Marion and instead discovers the black-robed Cairo Swordsman. Despite his opponent's slick skills, Indy defeats him with just one shot from his pistol.
Embark on your own thrilling adventures with this Indiana Jones action figure. A 16-inch whip fits in Indy's hand. Press Indy's back for whip-cracking sounds and action! A removable pistol fits in Indy's holster, and he also comes with a messenger bag for stowing Indy's treasures.
Action figure comes with shirt, pants, pair of boots, hat, belt, messenger bag, holster with removable pistol and 16-inch whip.
3 Button-Cell Batteries Included.
653569322160