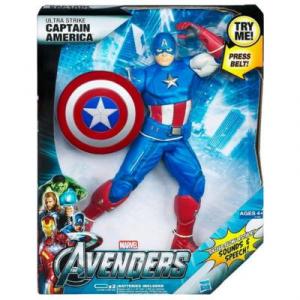 10" Ultra Strike Captain America (Avengers)

The unbeatable CAPTAIN AMERICA has returned from decades frozen in suspended animation to find a world unlike any he ever imagined. The one thing he does understand is that the planet remains in peril, and that it is up to him to protect it. CAPTAIN AMERICA launches his shield with uncanny accuracy to scatter his foes, and charges into battle with the same ferocity as ever before.
Recruit CAPTAIN AMERICA to your super team! He's the ultimate super soldier, ready to lead the charge into battle against the forces of evil! CAPTAIN AMERICA has devoted his life to the fight for freedom. Now you can pretend to battle evil with your very own First Avenger. Just pull back his arm and let go to make CAPTAIN AMERICA throw his shield. With awesome, heroic phrases and cool battle sounds, this CAPTAIN AMERICA toy is ready to lead your collection of heroes. Pretend to join the AVENGERS, and charge into battle with your own CAPTAIN AMERICA!
CAPTAIN AMERICA battles the bad guys! This big figure brings awesome electronic heroism to your world. CAPTAIN AMERICA is ready to lead your team of Super Heroes and battle the bad guys to save the planet. You can imagine that you're a member of the mighty AVENGERS, with CAPTAIN AMERICA leading you into a dangerous battle in defense of freedom everywhere. With cool combat sounds and real CAPTAIN AMERICA phrases, plus an awesome shield-slinging attack, he's the world's amazing First Avenger!
Electronic sounds, phrases, and an awesome shield-slinging attack! A single press of a button activates cool battle sounds and awesome CAPTAIN AMERICA phrases. And all you need to do to launch his shield into action is pull back on his arm and release! Get ready to fight for freedom with CAPTAIN AMERICA!
Electronic CAPTAIN AMERICA figure and launching shield.
Combat sounds!
Battle phrases!
Pull arm back and release to launch shield!
2 x AAA ALKALINE BATTERIES REQUIRED
DEMO BATTERIES INCLUDED
653569708834