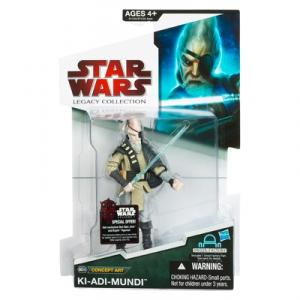 Ki-Adi-Mundi (Concept Art, BD38)

In this Episode III concept art by Derek Thompson, Ki-Adi-Mundi wears a cape and has an eye-patch over one eye. This more battle-weary appearance was designed to indicated that the Clone Wars have been raging for years and are taking their toll on the Jedi.
Prepare for out-of-this-world excitement with this detailed and articulated Ki-Adi-Mundi figure, based on concept art for the legendary film series. Armed with his lightsaber accessory, your determined warrior is ready to fight through even the toughest battles you set up for him! This awesome action figure even comes with one Droid Factory part. Collect all of the figures (each sold separately) and their included Droid Factory parts to build your very own R4-P44 figure!
Figure comes with a lightsaber accessory and includes one Droid Factory part BD 38.