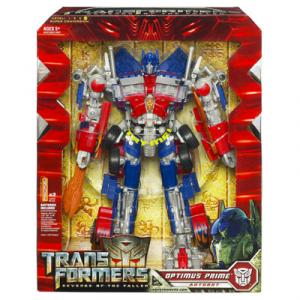 Optimus Prime (Revenge of The Fallen, Leader Class)

With the destruction of MEGATRON, OPTIMUS PRIME thought that he was finally, after millions of years, at peace. Little did he know that the escape of STARSCREAM would draw dozens of new DECEPTICONS to Earth. The desire that burns brightest in his Spark is that the war will soon end. He is determined to see that end come, and so he works with his human comrades and the other AUTOBOTS to hunt the DECEPTICONS that have come to Earth, and destroy them, one by one.
Prepare for battle with this AUTOBOT leader by your side! In robot mode, this mighty warrior features electronic speech and light-up eyes and chest that are sure to discourage enemy attackers! With snap-out energy swords, this good guy is ready to take on DECEPTICON forces once and for all! In tough truck mode, get in gear with engine revving and racing sounds and cool conversion sounds that let you know this hero means business! MECH ALIVE gearing reveals moving armor panels and internal gears that let you recreate some of your favorite movie scenes – or create your own! Team up with this awesome ally and roll out!
Includes 2 "AA" POWRFUEL batteries.