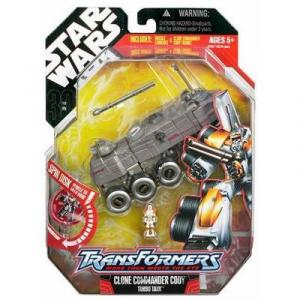 Clone Commander Cody Turbo Tank (Transformers)

As one of the Republicís elite clone troopers, Clone Commander Cody is the natural choice to command this advanced turbo tank. Huge, fast, and bristling with weapons, the turbo tank is already an unstoppable force. Little do the Separatists suspect, however, that with a single order, Commander Cody can morph the tank into an awesome fighting robot with enough power to level a city!
With its hidden blaster weapon compartment and launching missile, this ten-wheel tank means business! Convert from tank mode to Clone Commander Cody robot mode and "fire" a missile from this raging robotís weapon! No matter which mode you choose, youíll be ready to bring the galactic battle to a living room near you!
Figure comes with missile launcher, missile and mini Clone Commander Cody pilot figure.
$

23.99
$31.99
You Save $8.00
in stock